GOALS
An informational website that promotes the efforts of the Tucson Historic Preservation Foundation
The THPF's executive director had, over the years, accumulated archival materials about the community's historical architecture.
Inspired by the need for a responsive website, the THPF sought to have a more modern presentation for their existing content.
A digital method for selling event tickets and collecting donations
The THPF has several events throughout the year and a significant functionality request was for event ticket sales to happen through the site.
As a non-profit organization, the foundation requested that making donations be possible via the website.
OBSTACLES
Using the established brand conventions to design elegant interfaces that support high-resolution photography
Many of the THPF board members are architecture enthusiasts. Therefore, a great volume of architectural photography was made available. Furthermore, it was requested that these photographs be a major feature of the design.
Prior to my involvement with the group, a logo, typefaces, and brand colors were chosen to represent the THPF.
Transitioning the foundation's staff and data from a Drupal site to a WordPress site
The THPF had a pre-existing website that was built using the Drupal CMS. They were also using a Drupal integration for foundation management called CiviCRM. It managed all of their contacts and helped them to track donations. All of their data would need to be migrated to new platforms.
Accounting for the foundation's event calendar to include an annual event series
One of the THPF's larger focuses is on their events. They have a highly attended Spring home tour and a week-long event every fall that celebrates Tucson's modernist architecture and design. Designing and implementing landing pages for these events was a major need.
SUCCESSES
A branded website that simplistically delivers the various efforts of the foundation
Through much discovery, a minimal design was achieved that met all of the THPF's needs.
An easy to use backend that serves the foundation's many needs
I built a custom theme for the THPF with custom page builder that allowed their team to add a variety of content.
Through the use of a donation management WordPress plugin as well as a ticketing plugin, I was able to achieve the organization's functionality needs.
A user friendly WordPress plugin for managing events and a branded but distinct landing page for Tucson Modernism Week
I re-imagined the website layout to incorporate the branding conventions for Tucson Modernism Week.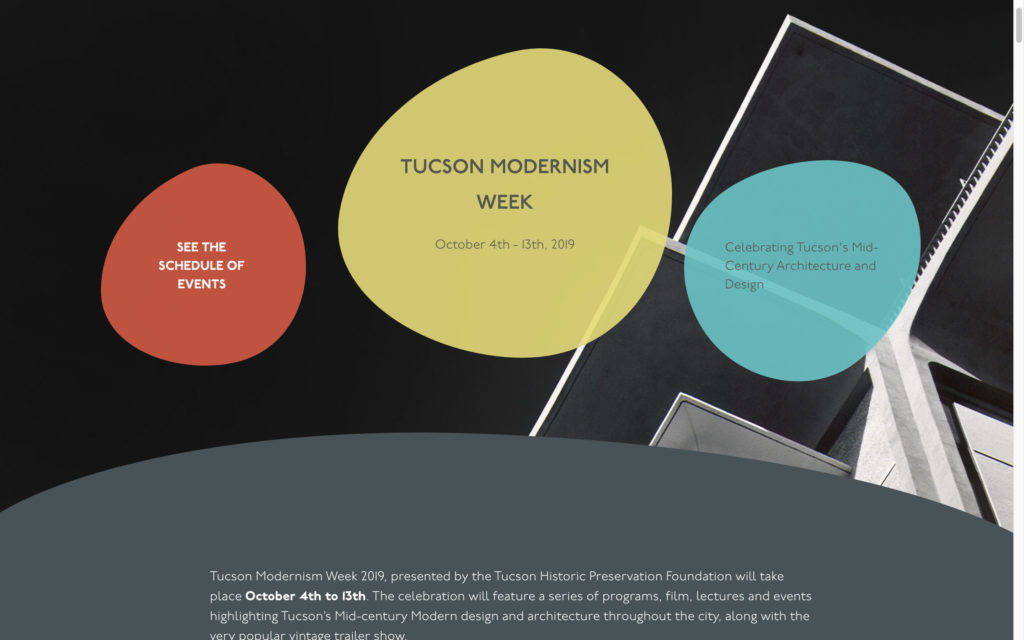 A method for filtering the week-long series of events was also designed and implemented.